|| MIRA36 Meteorological Ka-Band Cloud RADAR
General
MIRA36-2009 is a magnetron based pulsed Ka-Band Doppler radar for unattended long term observation of atmospheric clouds.
In its standard configuration linear polarized signal is transmitted while co and cross polarized signals are received simultaneously to detect Doppler spectra of the reflectivity and Linear De-polarization Ratio (LDR). The reflectivity is used to determine the density of cloud constituents while LDR helps to identify the target type. Different configurations for measuring other polarization variables, as e.g. the differential reflectivity or phase can be developed on request.
MIRA36-2009 is usually installed with a vertically pointing antenna for measuring profiles from 150 m above ground to the 15 km (above 15 km no signals are observed).
Alternatively a scanning version of MIRA36-2009 is available where the transmitter, the receiver, and the PC are installed together with the antenna on a scanning pedestal see The total weight of the Positioner including the Antenna and the radar components is 370 kg. It can be mounted on top of a trailer. In this case the trailer hosts the air conditioning for the radar, the UPS, an additional PC for operating the radar, and the waveguide drying system.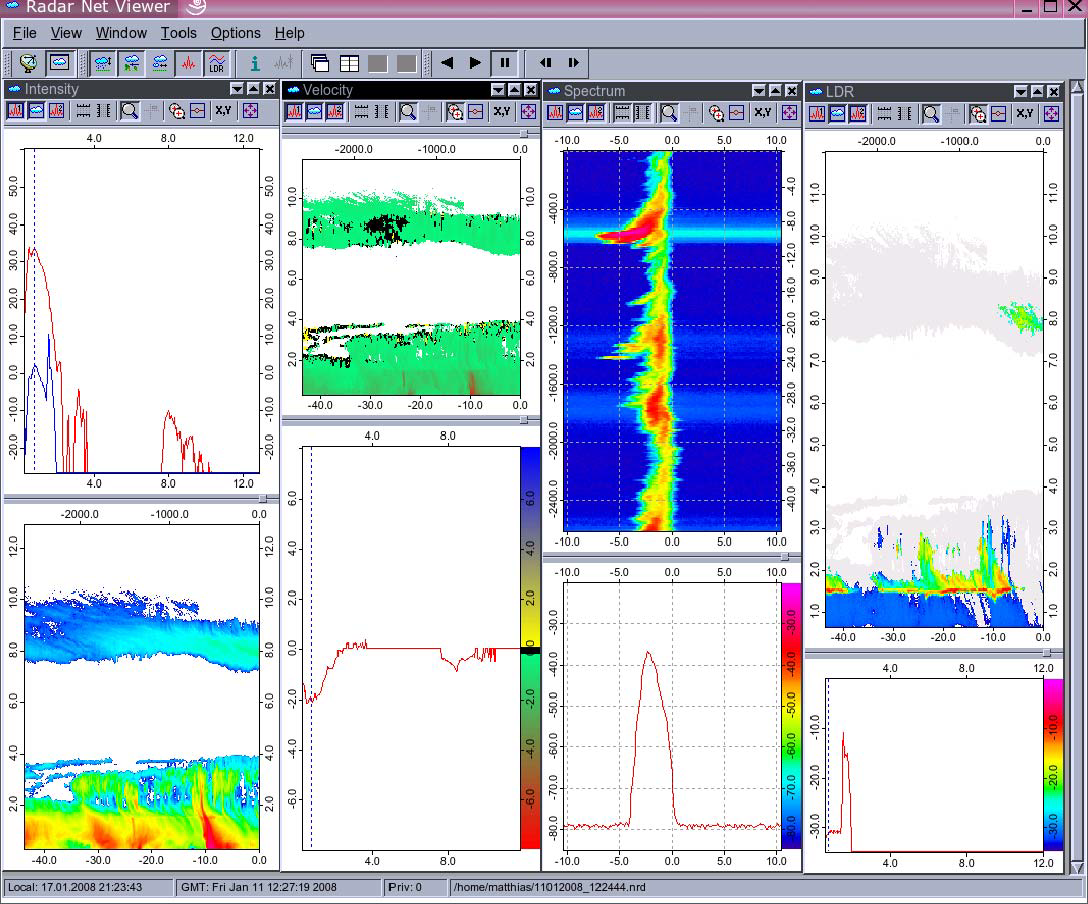 Screen shot of the data client.
a) Profiles of SNR [dB], (x-axis = height [km], red: copolar, blue: cross-polar);
A) SNR height-time display, (x-axis = time before "now" [s], y-axis = height [km]);
b) Profile of vertical velocity [m/s];
B) Velocity height-time display;
c) Co-pol Doppler spectrum [dB] of range indicated by dotted line in a (x-axis: velocity [m/s]);
C) Timevelocity display of the spectrum shown in a, (y-axis: time before "now" [s]);
d) Profile of LDR [dB];
D) LDR height-time display, (x-axis: time before "now" [s], y-axis: range km]);